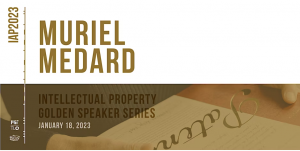 The Technology Licensing Office is introducing the Golden Speaker Series, a two-day event (Jan. 18th and Jan. 20th) during MIT's Independent Activities Period. The Golden Speaker Series will include talks and Q&A sessions from prominent researchers of the MIT community about their journeys within the MIT research, startup, and technology transfer ecosystem. The event will take place in the Samberg Conference Center at 50 Memorial Drive, Cambridge MA 02412; Prof.Médard will be speaking on January 18th from 9:00 – 10:30 AM EST.
Muriel Medard is a Professor of Software Science and Engineering in the Electrical Engineering and Computer Science Department at MIT. She leads the Network Coding and Reliable Communications Group at the Research Laboratory for Electronics at MIT and she holds over 60 US and International patents, with the vast majority being licensed or acquired!
Other speakers on Jan. 18th include Hugh Herr, Kristala Jones Prather, Marin Soljacic. Register for each session you plan to attend.
Grab your ticket here: https://www.eventbrite.com/e/golden-speaker-series-muriel-medard-tickets-471212307697